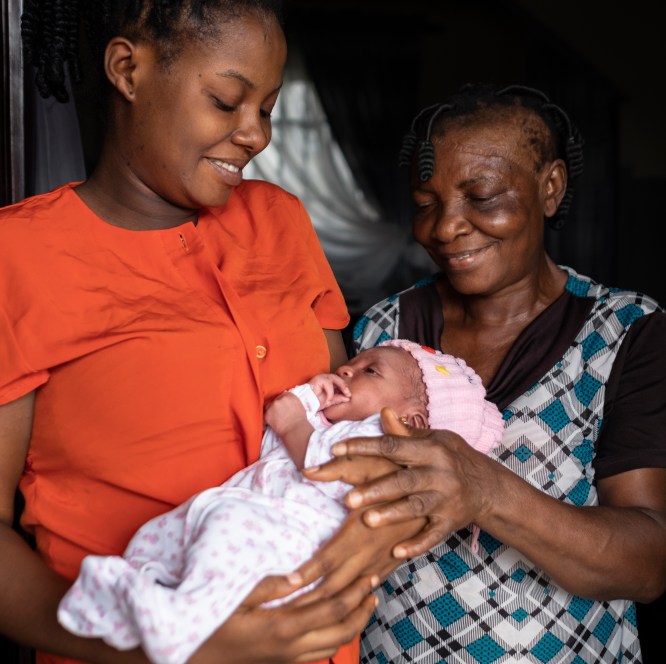 Corporate responsibility worldwide
Philanthropy is an essential part of our approach to corporate responsibility. We support programs to help improve access to health and enhance the quality of life in our communities.
We strive to improve the health and well-being of all people around the world
We envision a world where all people have access to the high-quality health care they need and deserve. That's why we're working tirelessly to reduce health disparities – preventable differences in the burden of disease, injury, violence or opportunities to achieve optimal health – for people living in underserved communities. And we're helping to build strong, vibrant communities where our employees live and work.
MSD FOR MOTHERS
Every two minutes, a woman dies from complications during pregnancy or childbirth - we want to change that.
With the MSD for Mothers' project, we are working to sustainably improve the healthcare system for expectant mothers. In doing so, we focus on improving access to quality care, treatment and prevention for pregnant and birthing women. Working with our partners, we can help make pregnancy and childbirth a safe, healthy and positive experience for women.
---
IVERMECTIN DONATION PROGRAM
More than 30 years ago, MSD established the Ivermectin Donation Program (MDP). That's why, since 1987, we've considered it our commitment to donate ivermectin for the treatment of onchocerciasis - also known as river blindness - to anyone who needs it and for as long as they need it. Additionally, we have expanded our donation program to include treatment for lymphatic filariasis (LF). MSD will provide these medicines free of charge until both diseases are eliminated worldwide. As the WHO has already confirmed, we have already been able to use them to conquer river blindness in Colombia, Ecuador, Guatemala and Mexico.
---
ELEFANTIASIS
Following the success of the ivermectin program, MSD decided in 1998 to expand the program to include lymphatic filariasis, commonly known as elephantiasis. Since the launch of the fundraising program, more than 3.4 billion treatments have been administered in 29 countries in Equatorial Africa, Central and South America, and Yemen, reaching more than 300 million people annually in affected areas.
---
FELLOWSHIP PROGRAM
We aim to find smart and sustainable ways to improve access to healthcare - especially in areas with limited infrastructure and resources. To this end, we partner with selected non-profit organizations. Each year, MSD enables up to 30 Group employees to support organizations with limited resources through a three-month fellowship.
Together with our partners such as governments, patient organizations, multilateral organizations, and healthcare and private sector partners, we aim to strengthen the capacity and reach of non-profit organizations to solve some of the world's greatest healthcare challenges.
---
EBOLA
Since 1976, when the Ebola virus was first discovered, the number of outbreaks has been steadily increasing and posing a global challenge. MSD has therefore made it its mission to fight this deadly disease with the help of numerous organizations and volunteers.
In 2019, the first vaccine against Ebola developed by MSD together with the European Medicines Agency and the WHO was approved. To date, 253,000 doses of the vaccine have already been shipped and more than 238,000 people have been vaccinated with it.
---
PROTECTION AGAINST COUNTERFEIT MEDICINES
We are taking action globally to combat counterfeit medicines and support criminal and civil penalties for counterfeiters.
Counterfeit medicines pose a threat to public health worldwide. Many counterfeit medicines contain the wrong dosage of the active ingredient or none at all. In some cases, they also contain substances that pose a health risk.
AT-NON-01660, created October 2022