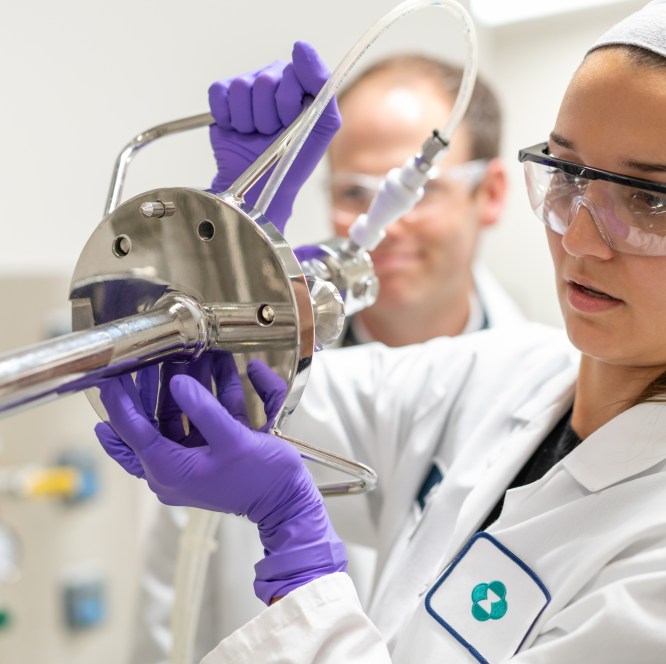 Discovery & Development
We aspire to be the premier, research-intensive biopharmaceutical company. We bring creative minds together to transform world-class science into life-changing medicines and vaccines.
DRUG DEVELOPMENT - FROM MOLECULE TO DRUG
From discovery to approval, an active substance must go through many processes. Only after thorough testing and intensive studies does a newly discovered active ingredient become an approved drug. Only a fraction of the substances researched receive approval. On average, it takes 13.5 years before the active ingredient reaches the patient as a drug.
FOUR STEPS IN DRUG DEVELOPMENT
DRUG DISCOVERY
PRECLINICAL DEVELOPMENT
CLINICAL DEVELOPMENT
REGULATORY APPROVAL AND ONGOING REGULATORY MONITORING
DRUG DISCOVERY
In order to develop new treatments and compounds, we must first understand the disease, its mechanisms and how it develops. That's why drug development begins with close observation and research into health problems - from the genetics of a disease, to the structure of individual proteins, to the way molecules interact with each other in disease. This then allows scientists to identify new targets for therapies and develop appropriate compounds.
PRECLINICAL DEVELOPMENT
Substances explored during drug discovery are refined, optimized and extensively tested in laboratory and animal models to provide sufficient evidence of safety and efficacy before clinical testing in humans can begin. Before the compound enters the clinical development phase, it must be ensured that the new substance is available in sufficient quantities during the clinical trials. Since only small quantities have been needed so far, production must now be adjusted to meet the significantly higher demand during the clinical phase.
CLINICAL DEVELOPMENT
A clinical trial is an investigation involving volunteers that tests new ways of preventing, detecting, diagnosing and treating disease. In these controlled trials, vaccines and drugs are tested for efficacy and tolerability. In these studies, active substances must pass through four clinical phases.
PHASE I
In phase I clinical trials, the drug is tested on humans for the first time ("first-in-man"). The path of the drug through the body and its metabolism are investigated in mostly healthy volunteers or volunteer patients.
PHASE II
In phase II clinical trials, the effect is tested in people suffering from a specific disease. Up to 500 patients participate in phase II studies. The purpose of this phase is not only to test the efficacy and tolerability of the drug, but also to determine the appropriate dosage.
PHASE III
Once the drug has successfully passed Phase II, it is further investigated in Phase III clinical trials in a larger number of patients. The aim is to show that the drug has the desired efficacy in a large number of patients. Furthermore, rare side effects can be discovered in this phase.
If Phase III is successful, the manufacturer can apply for marketing authorization for the drug.
PHASE IV
In Phase IV clinical trials, a drug undergoes further testing even after it has been approved. Here, the drug is tested under everyday conditions on up to several thousand patients. For example, the long-term tolerability of the drug or interactions with other drugs are tested.
APPROVAL AND ONGOING REGULATORY MONITORING
Once an active ingredient has been completed the clinical trial process and the data have been collected and analyzed, they can be submitted to the relevant authorities for review. Before a drug or vaccine can be sold in Austria, national approval by the Federal Office for Safety in Health Care (BASG) or European approval with the European Medicine Agency (EMA) is required.
Only about one of the many molecules tested ultimately makes it through the process of clinical trial phases and regulatory testing and is finally approved as a drug or vaccine. Around 800 million euros are invested in an active ingredient from development in the laboratory to the first prescription. Our research and development work continues even after a new drug or vaccine has been approved, as we continuously monitor and evaluate the safety, efficacy and value of our products.
AT-NON-02052, created August 2023