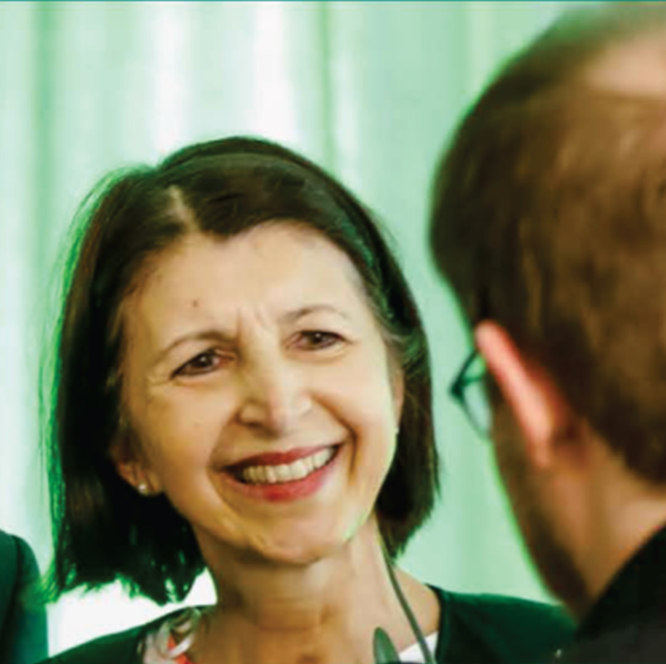 WINNERS
WINNERS OF THE MSD JOIN4CARE AWARD 2019/2020 (FIRST AWARD)
Project title: "All for all"
Project lead: Prof. Erika Richtig and Dr. Lukas Koch
Institution: Medical University of Graz
Congratulations to the winning team!
The winning team of Prof. Erika Richtig and Dr. Lukas Koch from the Medical University of Graz at the MSD Oncology Days 2020.
The €30,000 will support a newly introduced multiprofessional care concept that focuses on communication, medical care, and patient well-being. A linear communication (the "supply chain") becomes a circular one - a "supply ring".
Winning project 2019/2020: "All for all"
Cancer patients constantly experience new challenges in the course of their disease, from the initial shock of diagnosis to uncertainty before surgery to fears about the future, setbacks in the course of the disease due to disease progression, side effects of system therapies and much more. These challenges can be better met by the empathetic guidance and competent support of a multiprofessional team than by the help of individuals. A special feature in the care of cancer patients is the fact that most tumor therapies are administered on an outpatient or day-case basis and patients are only in hospital for a short time. An additional problem is the long travel distances, so it is difficult for patients to come back on subsequent days for more in-depth discussions of a psycho-oncological, dietary, pastoral, or nursing nature. For this reason, the project "All for All" - multiprofessional care for every patient in dermatooncology at the Graz University Clinic for Dermatology was launched. The aim of the project is to improve communication and patient care through a newly introduced weekly interprofessional team meeting (participants: nursing, psychology, social work, hospital chaplaincy, nutrition counseling, study coordination, secretariat and medical staff).
Due to the weekly exchange, in which the patients are the center of attention, it has been possible in most cases to plan special assistance with the stay or outpatient contact in advance in order to avoid additional appointments (for example, nursing advice on aids in nursing, psycho-oncological care, advice by social workers regarding care allowances or oncological rehabilitation, dietary advice, pastoral support etc.). Furthermore, it is possible to respond quickly and specifically to current needs and challenges. Interaction and communication with patients and ultimately therapy management are also improved. Everyone pulls together and all professions have the same level of knowledge about each individual patient. The project "All for All" transforms a classic "supply chain" into a "supply ring", and a "silent post" into open interprofessional communication.
The prize money from the MSD Join4Care Award will be used to permanently integrate and expand the care helpline for special patient concerns and problems, which was successfully tested as a pilot project. In addition, a clinical pharmacist will be integrated into the team and training on mindfulness and communication will be facilitated for the team.
FINALISTS FOR MSD JOIN4CARE AWARD 2019/2020
Dr. Nadine Tröndle
Hanusch Hospital Vienna
"HEMergency" Hematooncological emergencies require precise diagnostics and rapid, targeted therapies. The aim of this project is to establish a national platform to raise awareness of these diseases and thus ensure the best possible care for patients.
---
Mag.pharm. Dr. Doris Haider, MMBA aHPh
Social Medicine Center South, Kaiser-Franz-Josef-Spital
"Learning together - working together" Multidisciplinary training concept for all health care professions in a hospital in the oncological field (physicians, nursing staff, KPJ students, pharmacists, pharmaceutical assistants etc.) regarding current recommendations for oncological supportive therapies and current topics from the literature. The safe handling of cytostatic drugs is presented and practical exercises on mobile infusion pumps, intrathecal chemotherapy and cytostatic-induced extravasation support awareness of safety aspects.
---
Maria Röthlin, DGKP
Order Hospital Linz Elisabethinen
"Cycling like in the outdoors" The use of virtual reality (VR) goggles is intended to increase motivation to exercise, which is very important for people suffering from cancer, and thus reduce fatigue and muscle loss.
AT-NON-01230, Created Oktober 2021