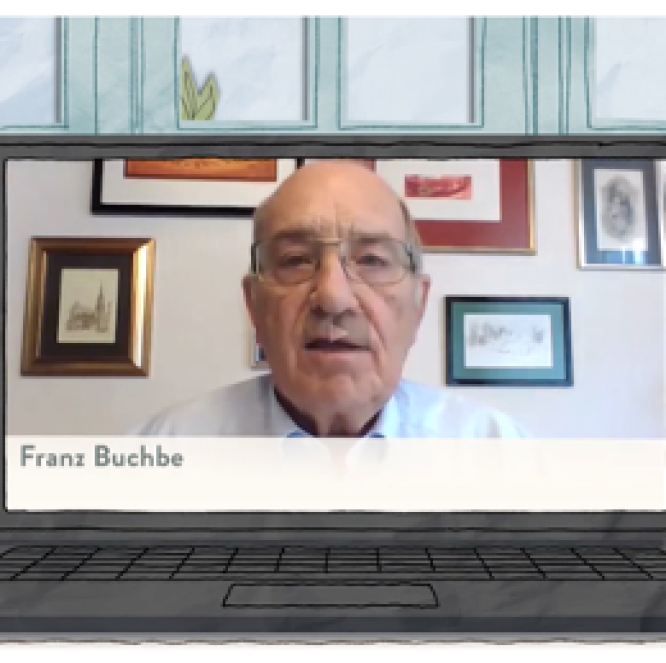 Cancer & Covid-19
Recent years have seen great progress in the treatment of cancer. New forms of therapy, such as immunotherapy or targeted therapy, have been able to improve overall survival as well as quality of life for many patients. COVID-19 puts these advances at risk, as at-risk patients and those affected often forget testing out of fear.2 This must be prevented by all means.
A PANDEMIC IS UNSETTLING.
People with chronic or severe illnesses often ask themselves questions to which there is not always a clear answer. This makes important disease-related decisions more difficult! Knowledge about the pandemic changes daily. What was current yesterday is outdated today. And even among experts, there is not always one opinion. This unsettles us all.
IN CASE OF CANCER, THE ASSUMPTION THAT COVID-19 ENTAILS RISKS IS BECOMING STRONGER.
RISKS THAT WE MUST WORK TOGETHER TO AVOID:
ROUTINE CONTROL HESITANCY AND WORSENED ACCESS TO ONCOLOGY TREATMENT CENTERS
DECREASE IN DIAGNOSIS RATE OR DELAY IN DIAGNOSIS2,3
INCREASE IN MORTALITY 2,4
During this time of uncertainty, as a cancer patient, you can count on MSD to stand up for your interests. We will support you and your treating physicians in the best possible way with important information that you need for your therapy as well as the management of your health.
With our campaign we draw attention to the fact that cancer cannot be prevented with a mask.
Prevention and screening for high-risk patients is more important than ever!
For cancer patients, regular check-ups and all necessary therapy measures must be made possible regardless of COVID-19 restrictions!
TIPS FOR CANCER PATIENTS
VERY IMPORTANT! For any cancer disease, the benefit of scientifically based cancer therapy outweighs the risk of possible infection with SARS-CoV-2.
QUESTIONS & ANSWERS
There are daily reports in the media about the risk groups for COVID-19. In addition to the elderly, these reports primarily talk about individuals with chronic illnesses. As a person affected by cancer, should you expect to be at increased risk for COVID-19 infection and a severe course?
In general, one cannot speak of an increased risk. Science knows too little about this to date.
BUT:
Patients who have received immunosuppressive therapy or chemotherapy in the last two to four weeks have an increased risk. In particular, lung cancer patients or people with hematologic diseases such as leukemia are at higher risk for severe COVID-19.6
Is COVID-19 vaccination recommended for people with cancer?
According to the Onkopedia recommendation7 (April 2021), the following people with cancer should receive COVID-19 vaccination:
Patients with malignant hematologic diseases, especially acute and chronic leukemias, malignant lymphomas, and multiple myeloma
Patient(s) with advanced solid tumors whose disease is not in remission and whose remission duration is <5 years, and patient(s) on current systemic therapy; excluding patient(s) on anti-hormonal monotherapy only.
Should cancer therapy be postponed or canceled because of Corona?
With any cancer therapy, the benefit of the treatment must be weighed against the possible harm, i.e.side effects, must be weighed. The individual risk of disease varies, depending on life circumstances and personal contacts.
For most patients with acute cancer, the benefit of sensible and planned cancer therapy outweighs the risk of possible infection with coronavirus. In patients with chronic and well-controlled cancer, the decision to defer therapy can be made on an individual basis.8
PROTECT YOURSELF FROM COVID-19!
The most important thing you can do yourself during this time is to protect yourself and others.
Here is what you can do to do so:
GENERAL
Keep a minimum distance of one- two meters from other people.
Use mouth-nose protection, ideally an FFP2 mask.
Avoid contact with infected persons.
Wash hands regularly with soap or alcohol-based solutions.
Do not grab your eyes, nose or mouth with unwashed hands.
Avoid places with many people and, if possible, reduce physical contact with people whose social behavior you cannot assess.
Make sure there is adequate ventilation indoors.
Refrain from traveling for the time being.
If you have COVID-19 symptoms, go into self-isolation and call the 1450 hotline.
ESPECIALLY AS A CANCER PATIENT(S).
Contact your health care provider if you are feeling poorly.
Never ignore severe symptoms of illness.
Do not adjust your current therapy on your own under any circumstances. Adjustments always require consultation with your treating center/office.
Do not skip checkup appointments for fear of infection at the hospital or doctor's office. Look for an alternative way to talk to your doctor or nurse in advance.
---
QUELLEN
1, Mahase E. Covid-19: Urgent cancer referrals fall by 60%, showing "brutal" impact of pandemic. BMJ 2020.
2, Sutcuoglu O. et al. Harmful consequences of COVID-19 fear in patients with cancerBMJ Supportive & Palliative Care Published Online First: 21 December 2020. doi: 10.1136/bmjspcare-2020-002628
3, De Vincentiis L. et al. Cancer diagnostic rates during the 2020 'lockdown', due to COVID-19 pandemic, compared with the 2018–2019: J Clinical Pathology 2020
4, Richards, M. et al. The impact of the COVID-19 pandemic on cancer care. Nat Cancer 1, 565–567 (2020).
5, Deutsches krebsforschungszentrum: https://www.krebsinformationsdienst.de/leben/alltag/coronavirus-krebs-haeufige-fragen.php (zuletzt abgerufen5 am 13.01.2021)
6, Empfehlungen zur COVID-19-Schutzimpfung bei Patienten mit Blut- und Krebserkrankungen (Dezember 2020): https://www.dgho.de/publikationen/stellungnahmen/gute-aerztliche-praxis/coronavirus/covid-19-vakzine-20201216_final.pdf (abgerufen6 am 19.01.2021)
7, Deutsches krebsforschungszentrum: https://www.krebsinformationsdienst.de/leben/alltag/coronavirus-krebs-haeufige-fragen.php (zuletzt abgerufen7 am 19.01.2021)
AT-NON-01155, Created October 2021